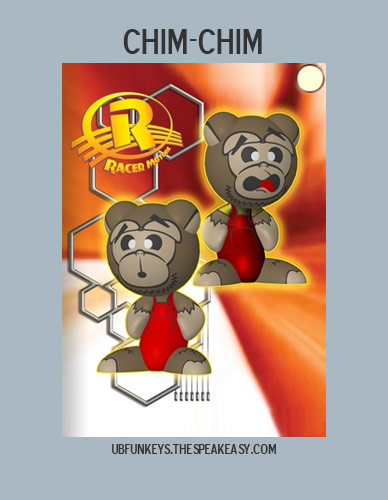 This candy loving primate is well known around all of the racing tracks of the Funkeys Racing League and is considered Terrapinnia most "Funkey Monkey". Officially a member of Racer Family Team, Chim-Chim can usually be found getting into trouble throughout the Royalton Racing Complex.
The constant companion of Speed Racer's little brother Spritle, Chim-Chim is truly a member of the Racer family. If you mess with the Racers, you're sure to get a face full of monkey cookies as Chim-Chim pops up from one of his favorite hiding spaces to save the day… and the race.
Ad blocker interference detected!
Wikia is a free-to-use site that makes money from advertising. We have a modified experience for viewers using ad blockers

Wikia is not accessible if you've made further modifications. Remove the custom ad blocker rule(s) and the page will load as expected.