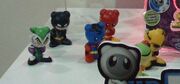 The DC Funkeys were originally shown in prototype form at San Diego Comic Con in 2008. They were meant to be a spin-off to the main plot just as the Speed Racer series was. Funkeys that were confirmed to appear were: Joker, Aquaman, Flash, Batman, Superman, Green Lantern, and Wonder Woman.
U.B. Funkeys was discontinued only a few weeks before the DC Funkeys were set to appear.
A Joker in packaging can be seen in photos from the 2009 Consumer Electronics Show.
A trailer was released to showcase both the Hidden Realm and DC Zone.