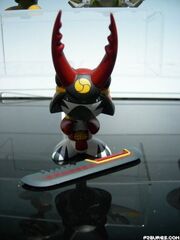 as seen at the 2009 new york toy fair
Kane is the leader of the Onis and the champ at Funkey Fighters in the Oni Dojo. He appears to be the largest of his Funkey race as well. neither good nor an evil Funkey, he is the Hidden Realms version of the henchmen, but he lets you decide whether your coins will be taken or not through a game of rock, paper scissors. He appears to be a very impatient, yet watchful funkey, and is loyal to the Great King Sidd.
Ad blocker interference detected!
Wikia is a free-to-use site that makes money from advertising. We have a modified experience for viewers using ad blockers

Wikia is not accessible if you've made further modifications. Remove the custom ad blocker rule(s) and the page will load as expected.