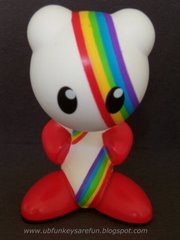 Lucky is a funkey that resides in Daydream Oasis, a Dream State. They have the appearance of a rainbow. As their name implies, they are the luckiest of all Funkeys, but they are also the toughest . Their Very Rare version has green feet and arms, and a re-colored rainbow. Its Rare version is as in the picture, but White is replaced with Black. Its common version is seen here in the picture.
The Lucky tribe are Multiplayer funkeys, and play a game similar to Soccer. At the beginning, one player is chosen to be a goalie and one is chosen to be the kicker. The kicker has five shots to score a point. The goalie, obviously, is trying to block those shots. After the kicker's 5 shots are used up, the players switch (The goalie goes up to kick, and the kicker goes to be goalie). 1 point is earned fro every goal while kicking, and 1 point is earned for every block while playing as the goalie. The maximum score possible is 10, and if one earns this score, they will recieve Lucky's Insane High Score item, the Lucky Prism. It is also possible to earn the Lucky Mystic Feather, which can be used along with a Mystic Hoop to form a Dreamcatcher, a device which will help the player defeat Dali and Goya and bring peace to the Dream States.
Ad blocker interference detected!
Wikia is a free-to-use site that makes money from advertising. We have a modified experience for viewers using ad blockers

Wikia is not accessible if you've made further modifications. Remove the custom ad blocker rule(s) and the page will load as expected.