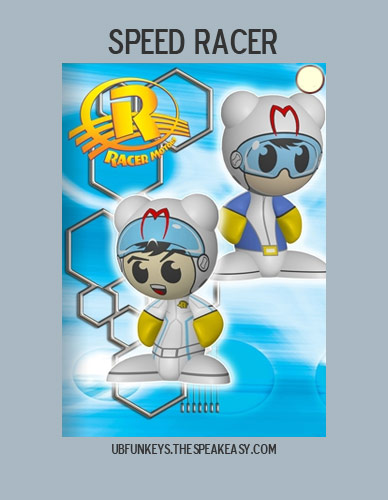 As a member of the Racer Family, Speed has been raised to drive from a very young age. It's been said that Speed was tooling timing pins while still in his Funkey diapers.
Speed Racer is truly a gifted driver, who grew up watching his legendary older brother, Rex Racer, set records in all of the major racing events throughout Terrapinnia. Speed was taught by his brother to "listen to what the car wants" rather than simply drive.
Choosing to stay un-sponsored and never driving without wearing his lucky red socks, Speed has vowed to carry on his brother's mission; to challenge the corruption rampant throughout the FRL, and restore the purity to the sport!
Although a relative new professional driver in the Funkeys Racing League, Speed is carrying on his family legacy and quickly becoming the crowd favorite.
As the Mach 6 engines roars around the track and equally deafening roar of "Go, Speed Go" can be heard from his cheering Funkey fans!
The normal version of Speed Racer was never released because of the low purchase numbers of the Speed Racer DVD, but the other version, Speed Racer GP, was released. The two versions differ in appearance, the normal version having its goggles down, and the GP version having its goggles up, and their games, the normal version's game being Pinball, and the GP version's game being Speed Racer's Grand Prix.