The Sprout is a kelpy basin funkey.
Their game is called Blossom Boogie, and it is a candy-crush-esque matching game except with plants and flowers. Sprout is also female.
Appearance
Edit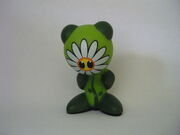 Sprout
Series
1
Colors
Green (common)
Yellow (rare)
White (very rare)
Game
Blossom Boogie
Home Zone
Sprout Aboretum
Accessible Zones
Kelpy Basin, Funkeystown
The sprout have a daisy with two tiny eyes for a face, as well as dark green limbs including ears, and a dark green vine from their neck down. These aspects do not change. The only changing feature is their skin color, which varies depending on rarity.
Codex Entry
Edit
The Sprout are always precisely prim, particularly proper and the most purely polite of all of the Funkeys.
The Sprout have perfectly manicured lawns, elaborate gardens and showpiece homes. They are often featured in Funkey Home and Garden and Architecturally Funkey Digest, and a Sprout has won the coveted FELIX award (given to the neatest Funkey) for as long as anyone can remember.
Most jobs around town associated with keeping things beautiful are held by Sprout. They work in concert with the Boggle to keep trash off the street although they find the Boggle to be "gross creatures." They have a natural ability to grow any type of vegetation. If they had thumbs, they would most certainly be green!
Game Room
Edit
The Sprout's game, Blossom Boogie, is like candy crush but instead of candy it's flowers and stuff. You get a score by each match you make, and you lose points based on how many points you lose via mistakes.
In Eric's Playthrough
Edit
Eric plays her game for a while and then moves on. The coin gain is slow.
Appearance
Edit
Sprout's game room is a greenhouse dome, covered in vines and flowers and stuff. It's kind of simple. There are a lot of plants, yet they do not seem to be aquatic. And, since there is an open door that lets water in, it's hard to believe the plants are not ruined!