Wasabi
Series
1
Colors
Black (common)
Blue (rare)
White (very rare)
Game
Shuriken Master
Naturally stealthy and skilled in the ancient art of Funk-Fu the Wasabi are extremely secretive and rarely speak. Always appearing silent and composed, their aloofness is often misunderstood and sometimes feared by their fellow Funkeys.
The Wasabi do nothing to dispel this image. Preferring to keep to themselves, they are in perfect harmony of mind and body. Honesty, self discipline and respectful behavior are their core values. They are often deep in meditation, studying ancient scrolls, painting and sculpting or engaged in rigorous exercises to hone their fighting skills.
Wasabi physical feats are those of legend including stories of walking up walls and on water, and extended levitation. No one has ever challenged a Wasabi and lived to tell the tale.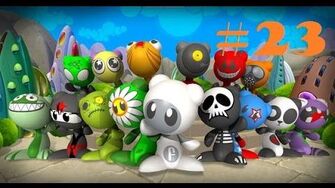 Ad blocker interference detected!
Wikia is a free-to-use site that makes money from advertising. We have a modified experience for viewers using ad blockers

Wikia is not accessible if you've made further modifications. Remove the custom ad blocker rule(s) and the page will load as expected.